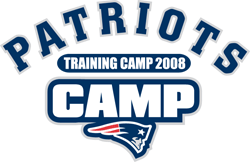 The Pats officially announced today that it would open its training camp in Foxborough at Gillette Stadium Thursday, July 24th. The Patriots will play their first preseason game at 7:30 p.m. August 7th at Gillette against the Baltimore Ravens.  Here is the release from the Pats website:
FOXBOROUGH, Mass. – The New England Patriots will open their 49th annual training camp on Thursday, July 24 with practices scheduled for 8:45 a.m. and 5:30 p.m. on the practice fields located behind Gillette Stadium. Training camp will run through Aug. 14, with practices open to the public on the practice fields behind Gillette Stadium. Patriots fans of all ages are welcome to attend. Parking and admission are free.
The practice schedule throughout training camp is tentative and subject to change. Fans who plan to attend practices are encouraged to check the Patriots website, www.patriots.com  for daily updates. There is also a training camp hotline that fans can call, 508.549.0001.
The tentative practice schedule through the opening weekend of training camp are listed below.
THURSDAY, JULY 24
8:45 – 10:30 a.m.  Morning Practice
5:30 – 7:30 p.m.      Evening Practice
FRIDAY, JULY 25
2:30 – 4:30 p.m. Afternoon Practice
SATURDAY, JULY 26
New England Country Music Festival
Training Camp practice are closed to the public on this day
SUNDAY, JULY 27
8:45 – 10:30 a.m. Morning Practice
5:30 – 7:30 p.m.    Evening Practice
MONDAY, JULY 28
2:30 – 4:30 p.m.    Afternoon Practice