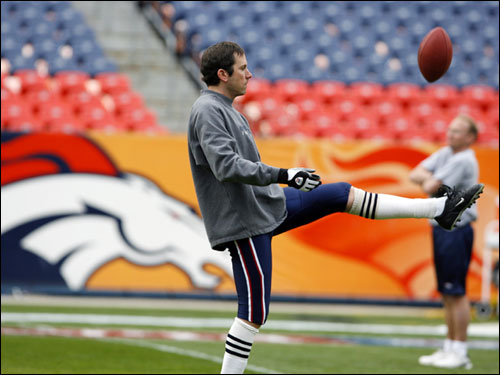 Josh Miller said the other day that he was well aware of the aspect that the Pats were looking at other punters. Today, he knows why even more. The 37-year-old veteran punter was released on Thursday, making way for youngsters Danny Baugher and Tom Malone in an ongoing battle for the New England punting position. Miller was in his 4th season with the team, and came over from the Steelers after they released him in signing Chris Gardocki.
"He enjoyed his time in New England and it was great to win a championship," said Glenn Schwartzman, Miller's agent. "We're appreciative of the chance to get on the market a bit early and find Josh a new home." Injuries may have been the telltale sign that Miller was on his way out, as he was limited to just 10 games back in 2006 after he was put on injured reserve with a shoulder injury.
Miller was also making a much bigger paycheck than the two younger punters, so the Pats will save some cash in making the move. He was making $820,000, while Malone and Baugher are both making just $285,000. The two new punters shared punting duties in the preseason opener vs Tampa Bay, and will continue to battle until the team makes a final decision likely in the next 7-10 days.