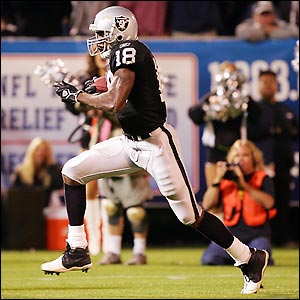 One of the biggest questions this year about the loaded Pats is how Randy Moss will mesh with his new team.  According to a pro scout who has seen Moss quite a bit throughout his career, one of his best attributes also ranks among his worst – his ability to read defenses.  "It's kind of interesting, because I hear people say he doesn't know how to run routes and all this other stuff," said the scout, who spoke to The Boston Herald on condition of anonymity.  "But he's one of the few guys I know of in this league who when defenses line up, he knows what coverage it is."  Moss worked on that skill while working with Cris Carter in Minnesota.
 
"Carter caught a whole lot of footballs by telling the quarterback what the coverage was going to be," the scout said.  "So to say the guy doesn't know how to run routes and he's not this and he's not that, those things are totally false.  I don't know how many guys you know who can line up and tell the quarterback what the coverage is, but Randy is one of them."  If Moss is as advanced in that area as the scout claims he is, he should fit right into a Patriots offense that requires its receivers to read and react in sync with quarterback Tom Brady.
 
The scout disputed the notion that Moss needs an attitude adjustment.  "I don't think he has to change his attitude, because I don't think his attitude has ever been what people have made it out to be," he said.  "He's one of those intense competitors that whether it's marbles or fishing or anything, he hates to lose.  Which is why he wants the ball all the time."  So why was his stay in Oakland, particularly last year, such a spectacular disaster?  And what about the belief that he can lose interest if passes aren't coming his way?
 
"When he got to Oakland, I think he saw there weren't going to be a lot of opportunities to do what he does, and I think that's what sunk him into his funk, because he does go into those when he can't get the ball," the scout said.  "Outside of that, whenever he feels he has a chance to be part of something, he's Randy."  Moss obviously has that opportunity in New England.  An entire seaboard region eagerly awaits the chance to see what he does with it.